In need of Meeting Lists? (or the new Meeting Cards?) Want to learn more about the program? The volunteers on our literature committee have plenty to keep you busy. Whether you're just starting out, or are looking to expand your horizons a bit, we have books, pamphlets , CD's and more that can help.
Need Meeting supplies ? We have literature racks, meeting signs & posters, Preamble & How It Works cards, everything that your group needs to keep it simple.
COVID-19 UPDATE !  Literature Sales is OPEN, please be responsible and safe when visiting the Office.                      Masks are available upon request.
e-mail literature@aasj.org with any urgent literature needs and we will try to accommodate your request.
Hot off the Presses ! AA World Services B-70 A selection of Bill W.'s General Service Conference talks, 1951 – 1970. Timeless and timely, these 16 selected talks give fresh perspectives on the A.A. Fellowship in our co-founder's own words. $10.00 ea.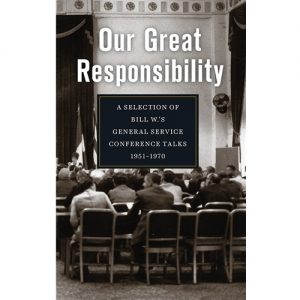 New from Grapevine ! GV-40 "Take Me To Your Sponsor" A fresh selection of the best jokes & cartoons from recent Grapevine Issues. now in stock. $11.50 ea.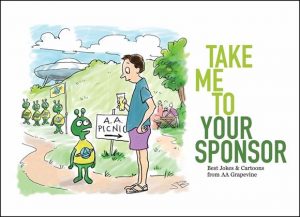 They're BACK ! The Grapevine's MS-20, now back in stock. $0.15 ea.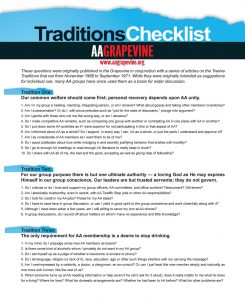 Literature Road Show
The Road Show can help make your group aware of the many Publications
available from AAWS & Grapevine to help your group carry the message.
Please ask your group about having the Literature Road Show visit you!
We recommend Anniversary Meetings or special events as a good opportunity
for having us out.
Upcoming Road Shows:
Your Next  Event could be here !

How to Order
Call the office at 856-486-4446 during the Literature Hours and a Volunteer will assist you, or you can call and leave a contact number so we can get back to you as quickly as possible. It is still suggested to call to verify someone will be there during Literature hours. More than one attempt may prove helpful as the volunteer may be busy or out of the office.
Special Literature Orders
We will special order anything that is approved by GSO (AA's General Service Office) including any one of the many International Big Books that are available. Turnaround time is 2 weeks.