Today's AA Meetings in Washington Twp.
South Jersey Intergroup - Meetings
The South Jersey Intergroup Meeting List Committee maintains the listing of all AA meetings in the following counties: Burlington; Camden; Gloucester; Salem and Cumberland. To report a new meeting or change of meeting information please use our Online Meeting List Update Form.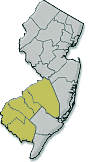 No meetings were found matching the selected criteria.
| Time | Distance | Meeting | Location | Address | Region | District | Types |
| --- | --- | --- | --- | --- | --- | --- | --- |
Download the meeting list app: